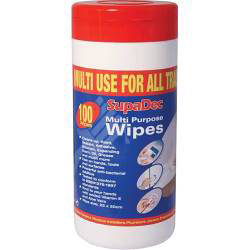 Add To Basket:
Features:
SupaDec Wipes are the ideal quick and easy solution for cleaning up spills and splashes from hands, tools and hard surfaces. The heavy duty wipe is pre-impregnated with a hi-tech solution to remove: wet paint, varnish, adhesives, scuff marks, oil, grease, mastics, sealants, non-cured PU Foam from windows and skirting, worktops, paint brushes, rollers and tools. Effective on both water based and solvent based paints. Packed in a handy resealable tub, SupaDec Wipes combine high performance with minimal hazard to the user and the environment. Kind to your hands with added Vitamin E and Aloe Vera.
Found this product cheaper elsewhere?
We check 100's of prices daily to bring you consistently low prices and best value. We're confident you can't beat our price but if you think another company has, let us know and we'll do our best to beat their offer.
Do you have a query?
If you have any questions, or need more information, please get in touch and we'll get back to you as soon as possible.